ArmorPress® Single Facer Pressure Belt

Nextwire® has engineered the next generation belt for the Corrugator Industry. Utilizing innovative
ArmorPress
® woven metal fabric with optimal wire and mesh configuration, 16% more surface contact is created for an improved bond and heat transfer.
ArmorPress
® is offered uncoated or with Teflon coating for easy release and increased productivity. Minimal narrowing and no seam marking combined with longer life contribute to increased production efficiency with numerous reports of belts running in excess of 100 million linear feet.
ArmorPress
® has a proven track record and is becoming the belt of choice among Corrugator plant engineers.
Minimal Narrowing
16% increase in surface contact
Frequent runs beyond 100 MLF
Pre-tested for Tracking
No seam marking
Inventory of Stock Sizes Available
Each belt undergoes rigorous testing intended to replicate mill equipment tension and speeds.
ArmorEdge®

ArmorPress® belts, either uncoated or Teflon coated, can have the addition of ArmorEdge® to the belts which serves to reinforce and stabilize the edges. This leads to enhanced performance and life of the belt.
Our
Products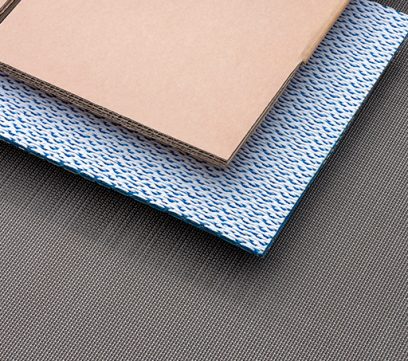 Bluebacker Corrugator Belt
The new generation
HybridMesh
has an open and robust mesh structure that reduce noise emissions and increases traction features. This is suitable for universal use on double facer machinery. The surface features ensure safe traction of the corrugated board during the whole bonding process. The belt is supplied with a flock seam.
Excellent flatness and directional stability of corrugated medium
Consistent belt properties due to heat setting process
High level of transverse stability and consistent belt running
Kevlar Edge reinforcement to avoid abrasion wear
Benefits:
Saving electric drive energy up to 15 to 20 percent
Reduced glue consumption due to faster evaporation
Up to 9% less heating energy and about 5% less glue in the drying process
Significant increase in production speed due to faster drying of the medium
Standardly electrostatic dissipation and Kevlar edges to avoid abrasion wear on heat plates